ABOUT &nbsp &nbsp RAVES! &nbsp &nbsp MEDIA &nbsp &nbsp CONTACT &nbsp &nbsp HOME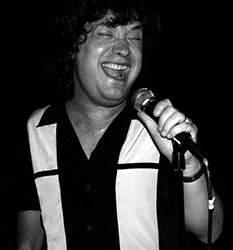 Pat is an original singer and stellar entertainer who's wowed audiences from the east coast to the west, from across the U.S.A. to Europe and Asia. His thrilling performances on stage and record have won rave reviews and garnered top awards.
"Pat's aching, howitzer of a voice alone, can stop a room"
Sun-Sentinel
"His voice was raw, powerful, and sincere"
Palm Beach Post
"...has impressed critics with his emotional soul delivery"
Sunshine Magazine
"...powerful vocals blend Joe Cocker and Louis Prima"
Mapleshade Records
With his band The Cocktail Nuts and his show
On The Rocks
, this modern day crooner gets classy with classic rock, gives new wave a permanent and puts punk in a tuxedo with exciting jazz versions of 70's and 80's hits!
"Every song is so transformed you'll think you're hearing it for the first time."
Mapleshade Records
"Wrapped in a jazzy cover, making what comes out sound better than the original. A lot of fun, recommended."
All About Jazz
"Improves on the Top 40 hits, adding sophistication, accentuating emotional nuances, and making things swing when needed. These transformed covers have depth, convey joy and are fun to listen to"
Car Audio
ABOUT &nbsp &nbsp RAVES! &nbsp &nbsp MEDIA &nbsp &nbsp CONTACT &nbsp &nbsp HOME
© 2015