Opened in 1999, not far from the iconic swamp highway that inspired its name. 10,000 square foot live music venue with concert hall stage, lounge room, full service kitchen and downhome southern cuisine.
First Place, Gumbo Cookoff
Ft. Lauderdale Crawfish Festival, 2002
SHOWS
Jefferson Starship, Levon Helm, Pat Travers, Commander Cody, Pee Wee Ellis, Dave Leibman, Spider John Koerner, Brian Stoltz, Panama Red, Mitch Woods, Joanna Conor, The Terry Adams Crazy Trio featuring Tom Staley and Scott Ligon, Kasim Sulton, Alan Gerber, Carolyn Wonderland, David "Fuze" Fiuczynski, Jim Payne's H.O.P., Rainbow Trout, Albert Cummings, Groove Thangs, Felix & Julius Pastorius, Dubconscious, Way Of The Groove, Joey Gilmore, Albert Castiglia, David Shelley & Bluestone, JP Soars, Malcolm Halcombe, Drunk Stuntmen, Raq, Almost Acoustic Band, Larry Hoppen of Orleans, The Spoon Benders, Gypsy Blue, Grown Men, Tonto Goldberg, Coexist Scientist, Steff Mahan, Cutback, The Surfintones, Charlie Pickett & The Flannel Rabbit, The Martyrs, Mineo, Tongues Of The Heartworm, Mia Steel, Hymin, Hawg Jowls & The Bacon Fats, Hagus Magagus, The Dillengers, A New Belief, Griffin Anthony, Colin James, BitchFire, Shannon Curfman, Alligator Alley Allstars, Wonderful Johnson, Nuclear Valdez, Psycho Daisies, Vesper Sparrow, The Gruntled, Yves Giraud, Father Bloopy, Chickenbox, Root Shakers, The Martyrs, Fernando Perdomo, Lucy's Revenge, Reuben Hoch, Bendy Pastorius Group, Seeds of Evolution, Dooms de Pop, Southern Flaw, Stonefox, Rimsky, Doersam, Dumbo, Sasha Weisfeld, The Charles Bronson Beat, Grab Bag Improvs, Side Project, Lights Down Low, The Root Shakers, No Brow Noise Workshop, Disco Satan, Karras, Implosive Disgorgence, Turok, Brent Hopper & Brittany Reilly, The Creepy T's, Fear The Bomb, Violet O, Ride Zombie Ride, Diverse Society, My Soul To Keep, Brian Kurtz, Christine Luther, Brian Jay Cline, Black Janet, Slang, Shack Daddys, Kinlin, Spork, The Homeless, Slo Club, TV Kills Kids, Agape Love, The Clock Outs, No Peace At All, To Be Hated, Clear View, Street People, The Malcontents, Hello Human, Catalonia, Band #12, DJ Sloan, Ghost Stroke, Michael Pickett, Wes Miller Band, Bonefish Johnny, Livid Kittens, Fraulein, Diane Ward, Rachel Goodrich, Kingsley, The Merry Franksters, Town Drunk, Kim Drake & The Dark Horses, Kelly Christy, Omine, Krispin Capiello, Antonio Hart & Lisa Henry w/ NOCCA Jazz Sextet, Togen, Robert Taylor Band, Tripping June, The Freakin Hott, Zombies Organize, Bump, BioDiesel, Misfortune 500, Grimy Style, Foley, Robot Swan, Hellcat Maggie, Last Flight Out Big Band, Freehand Method, The Woulds, Bobby Nathan, The Shakes, Dead Finger, Midnight Sun, Tom Lippincott & Steve Rucker, Hoots and Hellmouth, Atomic Cowboys, Hippies and Pilots, George Zhen, The Ridicules, The Crumbs, The Sleeparounds, New Start, Orbit Bear, The Pretty Faces, Sweet Bronco, Ana Kanpa, Raffa & Ranier, Deblois, The Wangs, Celtic Mayhem, Joey George, Bandit, Sweet Spot, G Cole, Jeff Watkins & Audacity, Bobby D, Flexxehawk (St. Pete), Boxcar Timmy, DJ Blip (Texas), The Eat, Stan Still Dance Band, Johnny Tonite, Urban Fruit, 16 Second Stare, A New Way to Live Forever, Band Number 12, TV Club, Paxitron, Water Tower String Band, The Notary, Kilmo & The Killers w/ Jimi Fiano, Fire Water, Evolution Effects, Fire Zuave, Puppetree, Bury The Broken, Warfield, Oblivious Signal, The Int'l Language, Huma Rojo, FL-NOLA Connection w/ Jeff Watkins & Eric Bolivar & Bert Cotton of Bonerama, Honey Henny Lime, Blitz Brewjo, Hiatus Rd, Sol, Johnny 3 Legs, Daniel Gardner, Jared Cole, Deaf Children, Fiore, Carthage, '49 Ford, Edo, Lizzy Pitch, Kenny Millions, Undrskor, Ketamine Blow Dart, Rat Bastard, The Bikes, TWK, Armed For Innocence, Mongo, Gigi DeNisco, Summer Blanket, Card Sound Road, Jim Wurster, Blackfinger, Chris Pureka, Gustavo Briceno, Bobby Load & The Little Bastards, Chris Merkley, Aaron Raitiere, Matthew Stewart, Xela Zaid, Nacht, Gray Girls, Submachine, Ever So Clever, Slim Jimmy & The Stingrays, Juicy Lucy, Joey George, Monty Warren & The Friggin Whatevers, Evolucid, The Thomas Coy Project,Jon Giluti, Fur Eels, Jim Camacho, Tribal Rage, Spencer Garn, The Atlas Complex, Eddie Gregg, ST37, Laundry Room Squelchers, Beautiful Cage, Force D'Elegance, The Atlas Complex, Retrocities, Sea Creatures, ElephantGun, Only Right Left, The Shutter, Jacuzzi Fuzz, Spinlight City, Qwel & Maker, Protoman & Lazerwolf, Name Brand & Punch3nello, Kems, PFM & Iron Ora, Soarse Spoken & Model Fragment, Robbie Hazen & The Riot, Deadfinger, Angry Pudding, No Class Action and many more…
---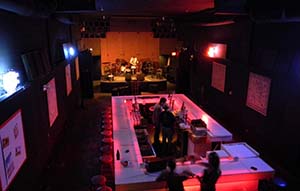 Hollywood, FL
Native Florida Tap Room & Music Hall brought live original music and quality craft beers to a concert class venue in downtown Hollywood, revitalizing the nightlife of the city's entertainment district.
AWARDS
Best Hollywood Neighborhood Bar
New Times, 2012
SHOWS
Brian Stoltz (The Funky Meters), George Porter Jr., Spider John Koerner, Rev. Billy C. Wirtz, Blowfly, Johnny Sketch & The Dirty Notes, Red Elvises, Fred Eaglesmith, Way Of The Groove, Albert Castiglia, David Shelley, Daddy Mack Blues Band, Shaun Murphy, Randy Bernsen, Dave LaRue, Travis Larson Band, Eric Bolivar, Nigel Hall, Roosevelt Collier of The Lee Boys, Malcolm Holcombe, Hellzapoppin Revue, The Two Man Gentlemen Band, Askultura, Aquaphonics, Orpheus, Joey Gilmore, Nico Wayne Toussaint, Dyslexic Postcards, Brittany Reilly Band, Walter Lure (of Johnny Thunders & The Heartbreakers), The Dillengers, Charlie Pickett, Jim Wurster, Mr. Entertainment & The Pookiesmakers, Boise Bob & His Backyard Band, Dreaming In Stereo, Omine, The Mann Sisters, Los Diablos, DJ Skidmark, Shack Daddys, Bonefish Johnny, Rockin' Jake, Raiford Starke, Kilmo & The Killers, Bobby & The Renegades, The Republik, A Guy Named Mickey, The Killing hOURS, Amy Arlo & Almost Blue, To Be Hated, The 707's, Heartline Fits, Desistance, Spoonbeach, Paul Baker, The Odd Stars, Robert Goodman Band, Chris Alvy Band, Jolly Badfellow, The Butchers, Howitzer, Riot Act, Social Piranha, Brian Jay Cline, Kingdoms & Crowns, The Independents, Liberty Call, Silenmara, Queen Dementia, D/Effektor, Cadillac Creeps, Ivan Jemaima, Klashing Hearts, Cyn & The Heartaches, The Green Mantles, No Stars In The Perimeter, The Ruins, No Brainer, The Mirrorz, Chronic Frequency, Andrew Bayuk, Box of Light, The Dropa Stone, Fly Machine, Rachelle Coba, Guilty Fingers, Mind You, Meddling Kids, Dirk Quinn Band, Neolythyc, The Von, Heroes and Cons, Lina Marquez w/ China Doll, Nikki Kidd, Fourth Dimension, Earth Code, Sean "Birdman" Gould, No Brainer, The Secretors, Testokra, Brain Chips, Husky Burnette, Instant Whips, Nervous Attachments, New Coke, DJs Sensitive Side and James Brown's Sweat, Blues Dragon and many more…
---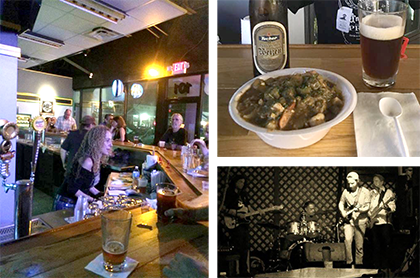 Oakland Park, FL
NEW LOCATION NOW OPEN!
830 E. Oakland Park Blvd. #101, Oakland Park FL
(location formerly Winners Take & Bake Pizza)
Featuring 15 craft brewed drafts and dozens of imported & microbrewed bottles and cans, sake, wines and an array of unique non alcoholic beverages. The menu includes multi award winning gumbo, Kilmo's killer chili, red beans, ham & sausage on rice, muffalettas, shrimp, oyster and roast beef po boys, Specialty and classic Italian, American and vegeterian subs, home made deserts and esspresso. Live music Wednesday through Sunday! 4:00 PM to 11:30 PM, kitchen open to close.